Membership is available in 3 different tiers.
You can also choose monthly or annual payments. Or purchase a membership for a loved one through a gift card.
The Australia Hunters Club is a great way to connect with other Aussie hunters as well as get benefits you won't find in other clubs, like hunting product discounts, monthly hunting product giveaways, monthly professional hunt giveaways, free member hosted hunts and events, members directory and much more.
Benefits aside, ultimately men and women join our hunting club because they share our passion and enthusiasm for hunting in Australia and want to connect with like minded people, sharing life together.
BASIC
5% discount on club merch
PREMIUM
10% discount on club merch

Hunting workshops & event discounts
PLATINUM
15% discount on club merch

Hunting workshops & event discounts
*Our club is a company, not an incorporated association. Learn why this is important and how it benefits members here.
**Members can use their membership with The Australia Hunters Club to gain access to NSW genuine reason and public liability insurance via the R-Licence (learn more here). Monthly members unlock access to this benefit 92 days after signing up. Annual members gain immediate access. Learn more here.
No problem, join as a Junior member!
This month's guided hunt & gear giveaways
Each month platinum and premium members can go in the draw to win a professionally guided hunt or hunting product giveaway.
connect with other members & hunt with us
I'm wanting to have a day out towards the Ballarat area. I'm still kind of new to it all and have only gone on hunts by myself. I was hoping for someone experienced to tag along….
Single day goat hunt in VIC SE near Ballarat. Anyone interested in coming along?…
Boggabri 2 night/day hunt camp arriving on Friday 8 sept between 1 and 2 pm targeting pigs, deer, And feral pests…
Through our 'opt in' directory members can easily create a profile and find other members based on their location, sex, interests, age, preferred species to hunt, experience, hunting style or whether or not they have access to private property. Once you've found someone you want to connect with it's easy to send them a message via the form on their profile. Profiles only show basic information so that members privacy and contact information is protected. Access to the directory is available via all membership tiers.
Jordan Ellingham
Best way to meet fellow hunters, acquire knowledge though mateship and heaps on benefits. Also professionally guided hunts to be won. Cant recommend the club highly enough
It's been great with the opportunity for events like demonstrations and teaching of skills held by members, giveaways, and invites to go on hunts with the opportunity to learn. Been an excellent way to meet good and like minded people.
This club is a great way to chat to other hunters and also catch up for hunts in you local area. Very easy to use and very friendly members that are always happy to help out with ideas or questions. Highly recommended other like minded hunters to join up and use the club to enhance your skills and hunting partners.
Great place to meet new hunters and likewise people and bring the hunting community together. Would highly recommend joining
What makes our club different from all the other Australian hunting clubs ?
We are people focused.
Member lead events and hosted hunts, camps & BBQs all across the country, our club is one that prides itself on forming relationships.
We are value focused.
We give away tens of thousands of dollars of professionally guided hunts and hunting products every year through our giveaways.
We are growth & mentoring focused.
We are a community that values learning and education. We exist to sharpen each others skills, knowledge and values. We connect members via our online directory and showcase their victories via our harvest and trophy register.
We are big and we are small.
We have members in every state and territory of Australia who regularly meet in small pockets of community. We don't have state branches which often leads to tribalism. Just naturally formed communities.
Latest member's harvests & trophies
As a club we feel it's important to celebrate and champion our members achievements. One of the ways we do this is via our online club harvest and trophy register. Through this tool member's can record their harvests and trophies, sharing their stories. Prizes are also awarded at the end of the year for the best records, celebrating the weird, wonky and wonderful.
You can view some of the latest records below.
Discover community, growth & lifetime friendships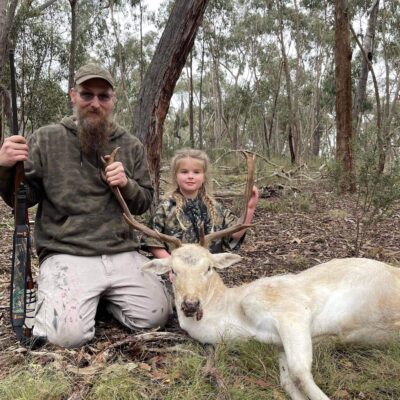 product & course discounts
Below is a list of exclusive hunting retail discounts that our available to our  members.
Below is a list of exclusive guided hunt discounts that our available to platinum members.
Discounts are subject to change.